Reveal updates: December 2022
Welcome to the December 2022 edition of Reveal updates. This month we talk about our new Partner & Integration help center articles. Plus a reminder about our Customer Portal, which can help you save time by paying your bill and setting up autopay. Read on to find out more.
Recently released


New Partner & Integration Help Center articles
We have updated a few Partner & Integration articles in the Reveal Help Center in order to better explain numerous aspects of our integration offerings. The updates made to these articles will help guide you through: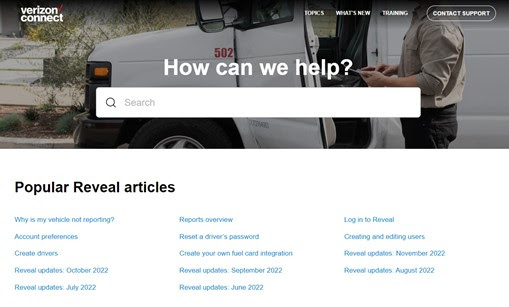 ICYMI (In case you missed it)


Verizon Connect Customer Portal
Have you checked out the new Customer Portal, a self-serve portal for Reveal customers that will help with common transactions like bill payment and retrieving invoices? Save time by easily making payments, getting invoice copies, and setting up autopay. Click below to learn more.

Subscribe to Updates
Use the form below to subscribe to updates on new features, enhancements, and bug fixes by Verizon Connect.