Reveal updates: March 2021
Welcome to the March 2021 edition of Reveal updates. This month we talk about the new replay feature in our Spotlight app, as well as enhancements to Fleet Service, Asset Tracking and Field. We also give you a sneak preview of what's coming soon. Read on to find out more.

Recently released


Spotlight app replay
In the Spotlight app, users are now able to choose specific dates for historical vehicle route replays, up to one year. This can be done within the Replay tab in the vehicle details page. Please check to ensure you are on the latest version of the app to get this improved functionality.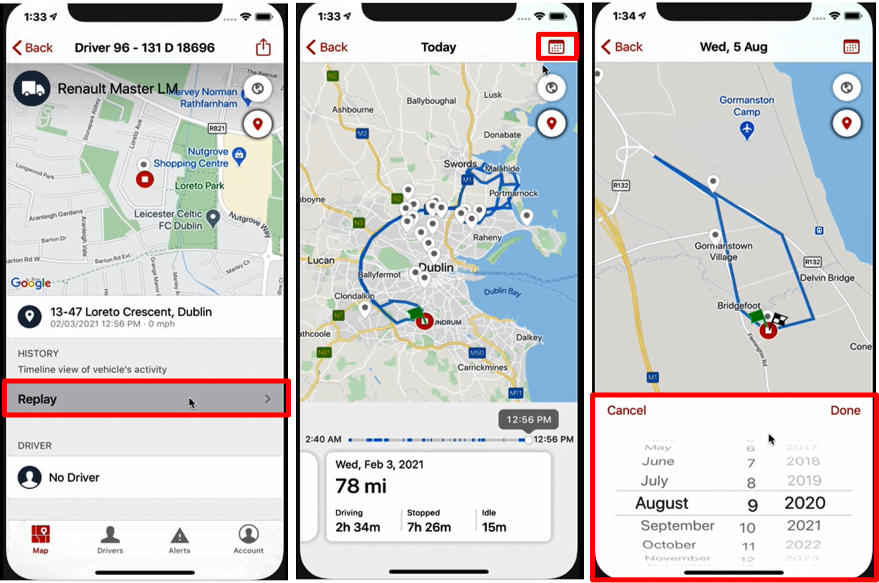 Fleet Service enhancements
Within the Fleet Service tab, the "Create a New Service Plan" feature has been consolidated from a five step process to a single, easy-to-use form that is accessible even from a mobile device. The "Manage Service Plan" section has also been updated to make it easier to manage, create and monitor service plans in one place.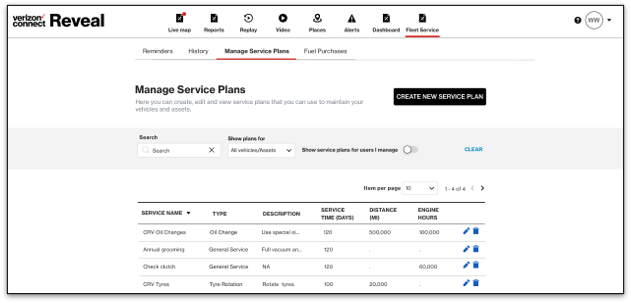 Asset tracking enhancements
Here are a few recent and upcoming asset updates.
Available now:
Asset battery life reporting - A battery life indicator will now show in the asset balloon on the live map. When the battery is low, a link to more information and next steps will appear.
Location updates are now available every 12 hours for non-powered assets. The location will show in the location history link from the live map. Contact support if 12 hour updates are needed.
Coming soon:
Asset updates on Live Map - Live Map enhancements are being made for Asset Icons, Asset Filtering, and Edit Vehicle page to improve Powered Asset classification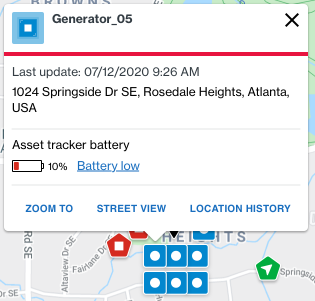 Reveal Field improvements
Here are some Revel Field features available now:
The Scheduler Technician Report can now be downloaded into a PDF format.
In Smart Scheduler, dispatchers can sort recommendations by "Schedule efficiency" which will show the technicians most suitable based on the current schedule.
Dispatchers can now see jobs previously completed and upcoming, to help with scheduling new jobs. This is visible in the Jobs list and Scheduler view.
Dispatchers can now clearly see the number of jobs that fall into each job status. Some name changes have been made as well:

"Dispatched" is now "Ready for export"
"Not Dispatched" is now "Ready for dispatch"
"Unreviewed" is now "Ready for review

Coming soon


Tachograph infringement analysis
There will soon be a new infringements tab in Reveal tachograph. This new tab will provide information on how drivers are keeping within the driving time regulations rules, as well as display driver penalties, dates and potential fines. With this information drivers can be coached to improve their adherence to the driving time hours.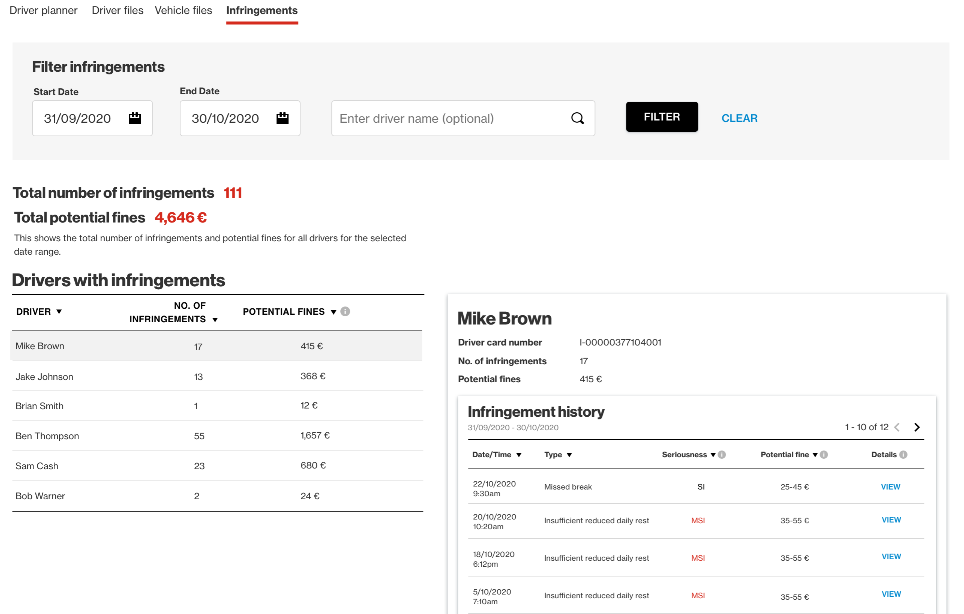 Integrated Video enhancements
The Integrated Video user interface will be receiving a few enhancements and a new speed graph feature will be added within the Video Event page which will provide users with more context on harsh driving events.

Subscribe to Updates
Use the form below to subscribe to updates on new features, enhancements, and bug fixes by Verizon Connect.