Keurmerk (quality mark)
The Keurmerk (quality mark) report is used as a standard to ensure that a journey registration in Reveal is compliant with the requirements of the Dutch Tax Authority.
In this article
About Keurmerk
When completing a Dutch tax report, a person must declare if they have access to a company vehicle. If they declare no private use of the vehicle, they must be able to prove that they did not drive more than 500 km for private purposes in a calendar year. Otherwise, they are subject to additional tax.
The Dutch Tax Authority requires conclusive journey registration which can be completed in Reveal and presented in the Keurmerk report.
However, you must:
correctly classify journeys, and

update the odometer every 2 months, if required.
The Dutch Tax Authority states that if a driver uses a journey registration system with the Keurmerk (quality mark), it is assumed journey registration is complete. However, the tax authority can still check if a journey is private or business.
In addition to private use for wage and income tax, the private journeys between home and the workplace must also be recorded for sales tax purposes.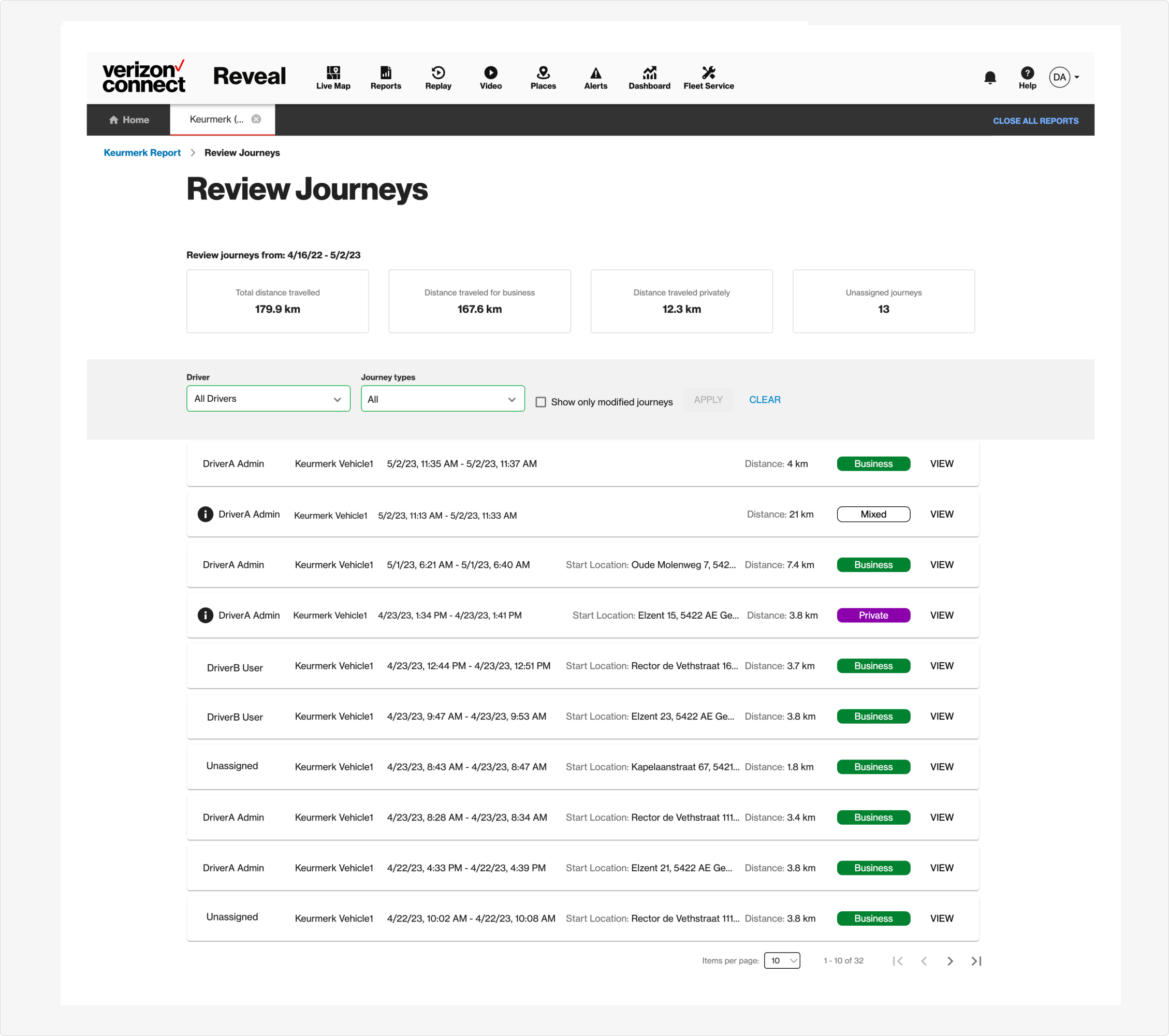 Enable permissions
Enable driver access to Keurmerk
Drivers can review and modify all private and business journeys assigned to them. To do this, a driver must be set up in Reveal as a user. To do this, an admin should:
Go to Admin > Driver List

Find the driver you want to edit and click the pencil icon.

In the Details tab, find Is this driver a user?
Select Yes, this driver is a user.
To update other details, skip to driver details.
Enable driver access to other Reveal features
To update the driver's permissions, an admin should:
Go to Admin > User List

Find the user you want to edit and click the pencil icon.

Select Set permissions and choose the permissions you want to enable.
Enable admin access to Keurmerk
Admins can review business journeys for all drivers. They can also review and modify their own private journeys if they are a driver.
To enable admin permissions for another user, an admin should:
Go to Admin > User List

Find the user you want to edit and click the pencil icon.

Find Is this user an administrator?
Select Administrator.
Report options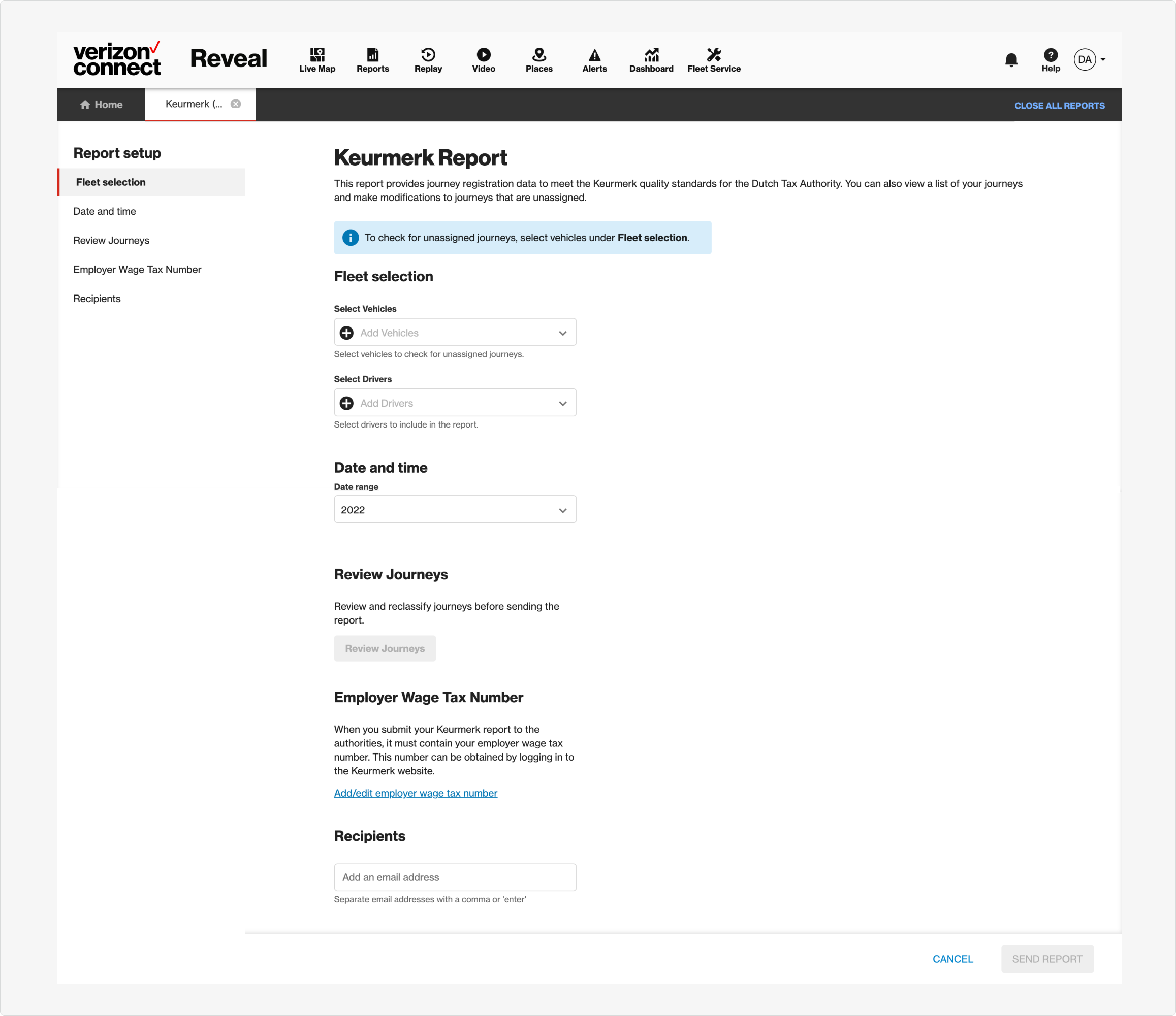 Select individual vehicles (to check for unassigned drivers).

Selecting this option without selecting any drivers will show all assigned and unassigned journeys for selected vehicles.

Select individual drivers (assigned journeys only).

Select the date and time range for the report. Choose from:

Current month

Current year

Previous year

2 years ago

Custom

Select 'Review journeys' to review, filter, and modify assigned and unassigned journeys.

Expand journeys to see more details and vehicle information.

Note: You can only review journeys if the date range is within a 31-day period. The maximum time period to send a report is 1 year.
Note: Only drivers can review and modify their private journeys.

Add or edit the employer's wage tax number.

Enter the recipient email addresses.
Driver details
The following driver details must be up-to-date to accurately reflect assigned journeys:
Driver citizen number or 'Burgerservicenummer' (BSN)

Driver first name

Driver last name

Driver email address

Driver home address

Go to the Employee Home tab, search the map and/or select ADD ADDRESS.

Vehicle assignment
Update driver details in Admin > Driver/Technician List and click the pencil icon next to the driver you want to edit.
To create a new driver, go to CREATE DRIVER/TECHNICIAN.
Data retention period
The retention period for the journey data is 7 years.