Reveal updates: June 2021
Welcome to the June 2021 edition of Reveal updates. This month we've got Live Map and Integrated Video enhancements. We also give you a sneak peek into what's coming soon to Reveal Field. Read on to find out more.
Recently released


Live Map clustering balloon
We have enhanced the clustering feature on Live Map to display a new informative balloon when users click on a cluster icon to provide a list of vehicles and/or assets within the cluster including statuses such as moving, stopped or idling.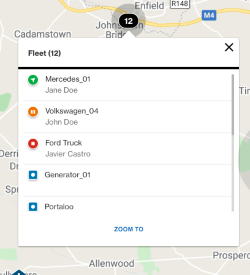 Integrated Video user feedback loop enhancement
The user feedback pop-up is now simpler and easier to use, allowing you to provide us with valuable feedback on the accuracy of video classifications.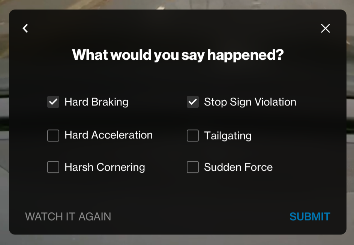 Coming soon


Reveal Field: Technician onboarding flow improvements
When Reveal Field is purchased, a new onboarding flow will soon show all the dispatcher's drivers in a list for the dispatcher to select which drivers will be allocated as technicians. After these drivers have been selected, they will auto populate in the technician tab on the Scheduler page, ready to start creating jobs. When a driver is selected, they will be sent an invite to download the Field app.
(If they have a password already, the email will say to use their current Reveal credentials to login into the app; if they don't have a password, the email will prompt the driver to create a password and then login.)
Subscribe to Updates
Use the form below to subscribe to updates on new features, enhancements, and bug fixes by Verizon Connect.