Reveal updates: January 2022
Happy New Year from Verizon Connect!
We want to help you kick start the year and set your 2022 Reveal business resolutions. Our goal is to keep your fleet safe, more efficient, and more productive throughout the new year. Read on to see our new 2022 Fleet Trends Report and Driver Safety webinar.
2022 Fleet Technology Trends Report
The 2022 Fleet Technology Trends Report revealed that customer service was the top area of improvement realized by fleet professionals after implementing a fleet tracking solution for the second year in a row. Customer service was closely followed by improvements in productivity and maintenance. On average, they also reported a 14% decrease in accident costs and a 10% decrease in labor and fuel costs.

This report is based on a survey conducted by Verizon Connect in collaboration with Bobit Business Media. Over 500 U.S. fleet managers, executives and other mobile-business professionals ranked their preferences and priorities when making the all-important decision of investing in a GPS tracking solution.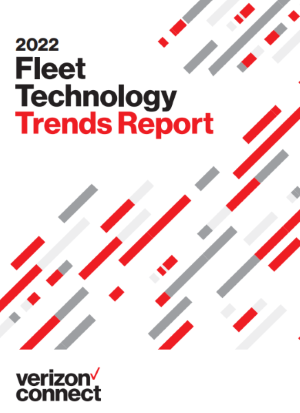 Webinar: Creating a Proactive Driver Safety Program
With the right technology and training, you can prepare your drivers with a proactive approach to keeping them, and those they share the road with, safe. In this webinar, you will learn:
How dashcams can help preempt dangerous driver behaviors and their negative outcomes

How telematics data can act as a neutral witness in the event of an accident

Where advanced technology and proper training meet to focus on overall fleet safety

Get insight into some real-world fleets who have prioritized driver safety through the use of dashcams