Set up ETA notifications
The Estimated Time of Arrival (ETA) feature in Scheduler shows the approximate time when a technician will arrive at a job location. The ETA will either show numerically, or as On Time on a job card.
An ETA is calculated by taking into account the distance of the technician's vehicle from the location of the job they are travelling to, and any traffic restrictions that are in place. ETAs are updated every five minutes.
The ETA to a job will show for up to two hours after the scheduled start time has passed.
For ETAs to be calculated, a vehicle must have a Vehicle Tracking Unit (VTU) installed. In addition, the vehicle needs to be assigned to a technician and to have moved location in the last three days.
This article covers:
Enabling the ETA feature
To enable the ETA feature, follow these steps:
In Reveal, click the Scheduler tab.
Go to Settings by clicking the cog icon.
Under Account settings, click Job alerts.
Check the box beside Show technician's ETA.
Click SAVE.
When and where an ETA will display
An ETA shows five minutes after a job has been created. It shows on the job card in Scheduler. It also shows on the vehicle balloon on the Live Map in Reveal, as shown below. It will only show for dispatched jobs.
ETA in Scheduler:
ETA on Live Map: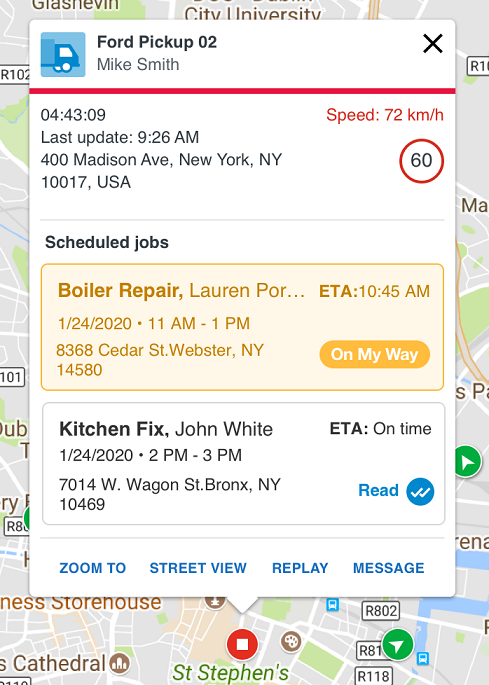 Technician statuses
For an ETA to be accurate, technicians are required to update their job statuses using the Reveal Field Mobile App.
For more on technicians' statuses, read this article on updating job statuses.
When ETAs are incorrect
Currently, if a technician has two jobs scheduled for the same time, the ETAs calculated may not be accurate. This is because it is not possible for the system to create ETAs for two different locations for one technician.
If a technician does not follow the order of a list of jobs in Scheduler, the ETAs calculated may not be accurate.
Learn how to Let customers know when a technician is due to arrive.
Learn how to Set up customer notifications.
Learn how to Set up technician notifications.