Add your company information
Set company working hours
You may need to get permission from your administrator to access Settings.
In settings, your company working hours are set by default as Monday to Friday, 8 AM to 6 PM. If you need to change these hours, do the following:
In the Scheduler tab, click the Settings cog .
Under Company information, click Company working hours. Use the drop-downs to select the times that apply to your business on a particular day. When you are finished, click SAVE.


Where these hours will show
The working hours you select show in white in Scheduler. Hours and days outside of the working hours you selected are greyed out. You can still schedule jobs outside of your office hours.
Scheduler can use your working hours to recommend the most suitable technician for a job.
Add company logo
In Reveal Field, click the Scheduler tab, then choose the Settings icon .
Under Company information, click Company logo.
Make the changes you need and then click SAVE.
When adding a company logo, dimensions should be 180 x 70 pixels in JPG or PNG image format, with a maximum file size of 2 MB.
Add company details
Add important company information to emails that are sent to your customers. You can add company details including:
Company name

Company address - This may be an office, yard, or depot, and can differ to the billing address which is usually an office.

Billing address - This is included in all customer communication


Company phone number

Company email

Legal disclaimers
Scheduler may use your company address when recommending a technician for a job, if it is their registered starting location.
The following is an example of a customised email that is sent to customers: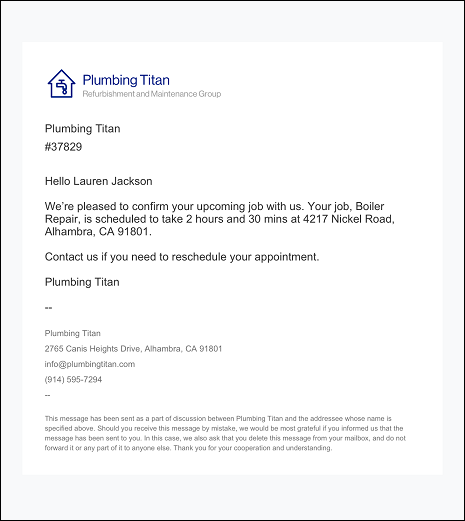 Learn how to Set company working hours.
Learn how to Edit customer notifications.