View your billing information
This article describes how to view your current bill, your billing history and today's account balance online.
To view your billing information:
Make sure you are on the Billing and Payment screen.
Your bill summary and current bill is available under Bill Summary.

The information on the right is similar to the Quick Bill Summary on the invoice that we send to you. The prior charges and unapplied payments and adjustments are updated dynamically. Because of that, they might differ from the ones on your last invoice. For more information on billing, see Billing overview.
Your billing history is available in the table on the Billing History tab.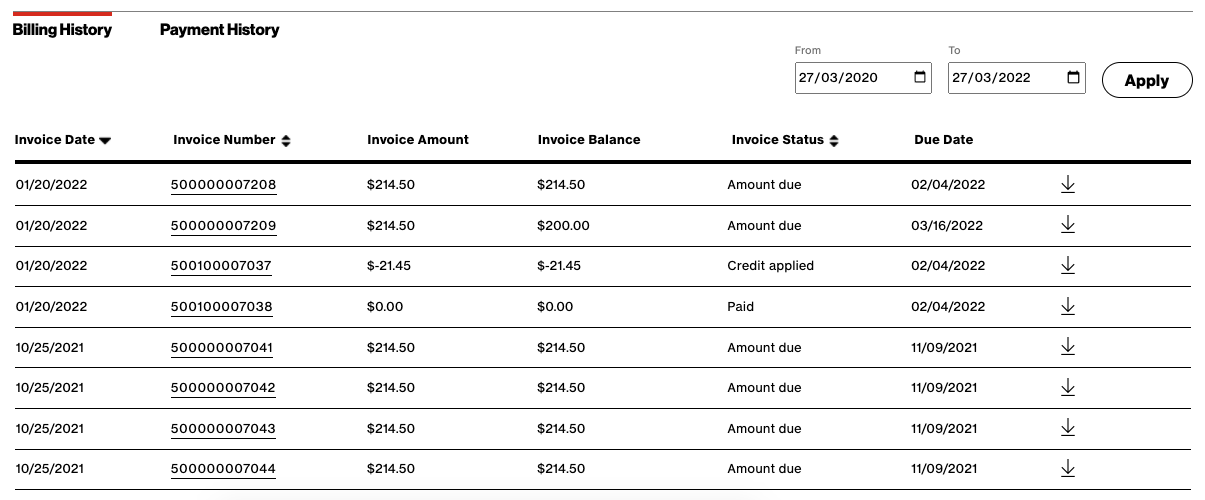 You can select a date range using the date picker. You can access invoices from February 2020 onward. If you need an older invoice, contact support.

The columns in the table provide the following details:
Invoice Date: The date when we sent you the invoice.
Invoice Number: The invoice identification number.
Invoice Amount: The total amount that the invoice was created for.
Invoice Balance: The amount that is still outstanding and has not been paid yet.
Invoice Status: This can be "Amount due" (when there are outstanding charges on this invoice), "Credit applied" (when credit, such as a refund, has been applied to your account), or "Paid" (when the invoice has been paid).
Due Date: The date by when this invoice needs to be paid.
Click the Download icon to download this invoice in PDF format.