Set up customer notifications
Customer notifications are updates sent automatically to Reveal Field customers by email and text message.
You may need to get permission from your administrator to access Settings.
This article covers:
Types of customer notifications
Job confirmation: Notifies the customer when a job is added to Scheduler.
Job reminder: Reminds the customer of an upcoming job, 24 hours before the start time.
A reminder will only be sent if the job has been sent to the technician's mobile device.
Technician on the way: Lets the customer know when a technician is on the way to a job location. This is sent when the technician updates their job status to On My Way using the Reveal Field mobile app.
Job review: This is sent to the customer to ask them to review their experience of a job.
Technician delayed: Sent to the customer when a technician is late for a job. The message includes a new Estimated time of arrival (ETA).
Accessing notifications
Click the Scheduler tab and then select the Settings icon
To view Customer notifications, click Email and text messages and then click Customers.
To change their status, select the edit icon and then tick the enable email and/or text messages boxes on the next page.

Edit notifications
To edit the notifications:
In Scheduler, choose Settings > Email and text messages > Customers.
To open a template, click EDIT.
To enable notifications, tick the Enable this for email and text checkbox.
Edit the text by writing in the template editor. Changes you make will appear in the message preview box.
To add a placeholder to the template, click INSERT PLACEHOLDER and select from the dropdown. When a notification is sent to the customer, it will include the information you added from the placeholder.

Emails and text messages will be sent automatically to the contact details saved under the Job ID for this job. The customer will receive both an email and a text message if they provided details for these.
You can add HTML tags to the body of the email. Changes will apply to the email received by the customer.
Email template editor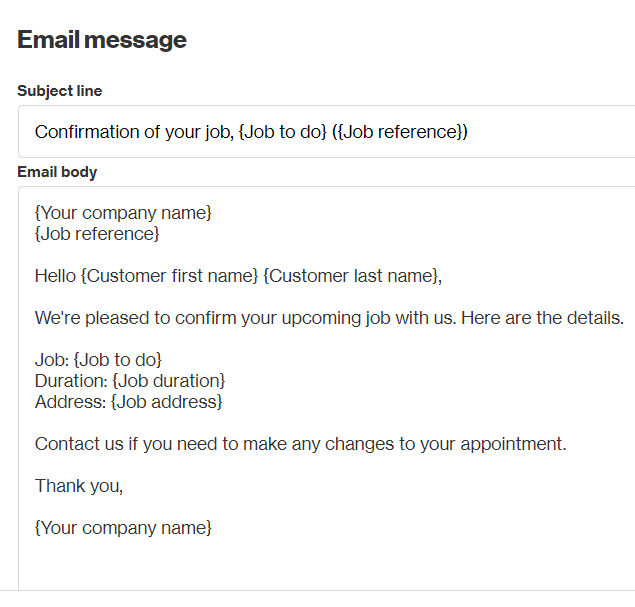 Text message template editor

Send test emails and texts
To send a test customer notification:
In the template editor, below the template, click SEND TEST.
In the Send a test email pop-up, enter an email address, and click SEND TEST.
In the Send text message pop-up, enter a cell phone number and click SEND TEST.
To undo your changes, click RESET TO DEFAULT.
You can only send test notifications to one email address and one phone number.
To learn how to add company branding to your emails, read Add your company information.