Step-by-Step Guide
Please follow this guide to manually upload your fuel purchases.
Step 1. Import file.
In Reveal, go to Admin Upload Fuel Purchases. On 'Fuel Imports' screen, click BULK IMPORT.
Click SELECT FILE.

Select the file you want to import.

Click NEXT.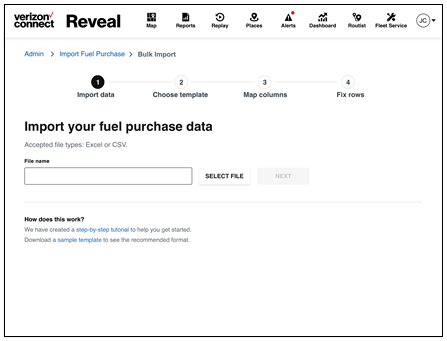 Step 2. Choose template.
Match settings to how they appear on your file. This helps Reveal to read your file and saves your settings to a template.
Enter a name for your template.

Select the region as it appears in your file. This will be used to determine your file's currency and volume measurement units.

Select date and time formats as they appear in your file.

Deselect My file has column headings if applicable.
Click NEXT.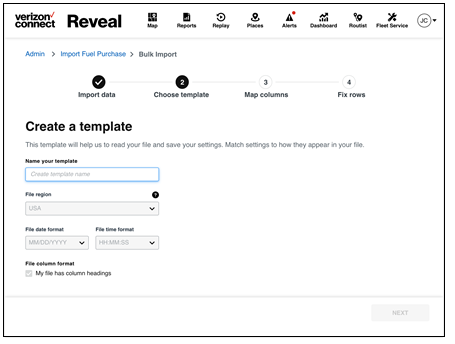 Note: The next time you run the wizard, you will be able to choose this saved template from a dropdown or create a new template.
Step 3. Map columns.
Match columns from your imported file to Reveal labels. These settings will be saved in your template.
Match your file's columns to their Reveal corresponding labels using the COLUMN FROM YOUR FILE drop-down menus.
Select My file has a Place ID column if applicable.
Click NEXT.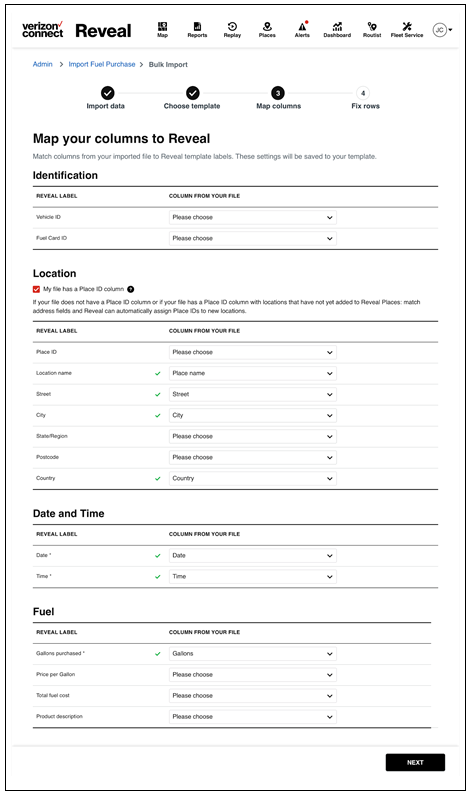 Note: If your file contains column headers, they are displayed in the drop-down menus. If not, the column position (Column A, Column B, Column C and so on) is displayed.
Step 4. Fix row errors.
If your file contains rows that Reveal could not process, here you can manually fix them.
Click on an error field and enter the correct value.

Once you have fixed all errors in a row, click FIX ERRORS. Reveal will re-check the row.
To finish the import without fixing the errors, click IGNORE ERRORS.
To cancel entire import and exit process, click CANCEL IMPORT.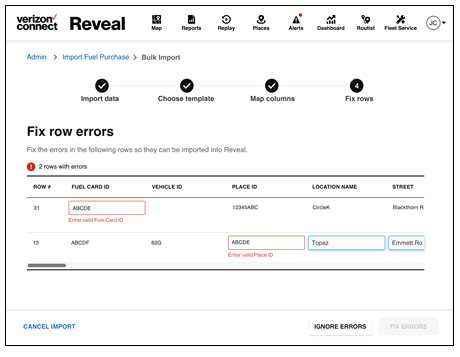 Other features: On the Fuel Imports tab, you can view details of your most recent fuel imports or download the imported file. On the Templates tab, you can view, edit, or delete your saved templates.