Troubleshoot vehicle and asset trackers with Device Health Check
If a vehicle or asset has stopped reporting or is reporting incorrectly, you can use the Device Health Check feature to troubleshoot the issue.
You can access Device Health Check from the vehicle's context menu on Live Map.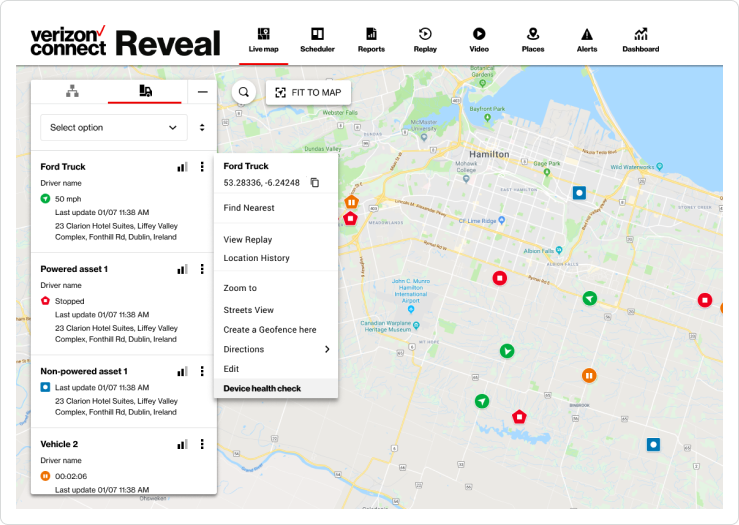 The Device Health Check shows the following information:
Vehicle or asset name

Last update

Last status

Last known location

Tracker type

Tracker serial number (ESN)
The panel also shows troubleshooting steps to help you get the tracker reporting again.
Ping a non-reporting tracker
If a Vehicle Data Device (VDD) or Xirgo tracker is installed in a vehicle, you can send an SMS text message (ping) from Reveal to the vehicle tracker.
This message (ping) prompts the tracker to check in. If the tracker is working correctly, you should see the correct location and status in Reveal.
To ping a vehicle tracker:
Open Device Health Check panel.



Check that the vehicle:

Is switched on.

Has been driven in the past 24 hours.

Is in cellular range with a clear view of the sky.

Tap CONTINUE.
Tap SEND PING.


If the ping is successful, take the vehicle for a short drive and then check Live Map to see if the issue has been resolved. It may take up to 5 minutes for Live Map to update.


Additional troubleshooting steps
Troubleshooting: Why is my vehicle not reporting?