View jobs in Scheduler
There are two ways to view jobs using the Scheduler, using the Technicians view and the Jobs view.
Visit the Scheduler tab in Reveal and switch between these views using the navigation icons.
Technicians view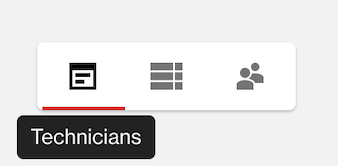 The Technicians view is selected by default. You can view technicians' jobs by Day, Week, or Appointment using the drop-down menu.
Jobs are displayed on job cards and show the jobs that technicians are scheduled to work on or have already completed.
To see technicians' jobs from a specific day or week, make your selection from the drop-down and use the navigation arrows or the date picker to see more.
When Day or Week is selected, you can learn more about a job by hovering over a job card. You can click the job to open the job panel where you can edit the job and view its details.
Appointments view displays jobs by appointment dates and times. Some of these jobs may not have technicians assigned to them yet.
View jobs by date using the Previous day and Next day navigation arrows, or by selecting from the date picker at the top of the screen.
Jobs view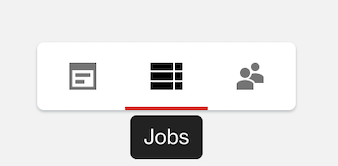 The Jobs view displays all started, finished and upcoming jobs.
With the All or Pending filter turned on, pending appointments with no date will show at the top, and upcoming appointments will show under these organized by date.
With the Scheduled filter turned on; scheduled appointments will show.
If you only want to see past jobs from a specific period, use the Timeframe drop-down menu.
Learn how to View past and pending jobs for a contact.
Learn how to View your daily schedule.
Learn how to View your weekly schedule.
Learn how to View your scheduled appointments.
Learn how to View jobs on Live Map.