Account screen
Use the Account screen to view information about the account currently signed into the app, to view setup information for your plug and play GPS tracking device, to provide feedback to Verizon Connect about the performance of the app, to view the app version installed on your device, and to sign out of the app.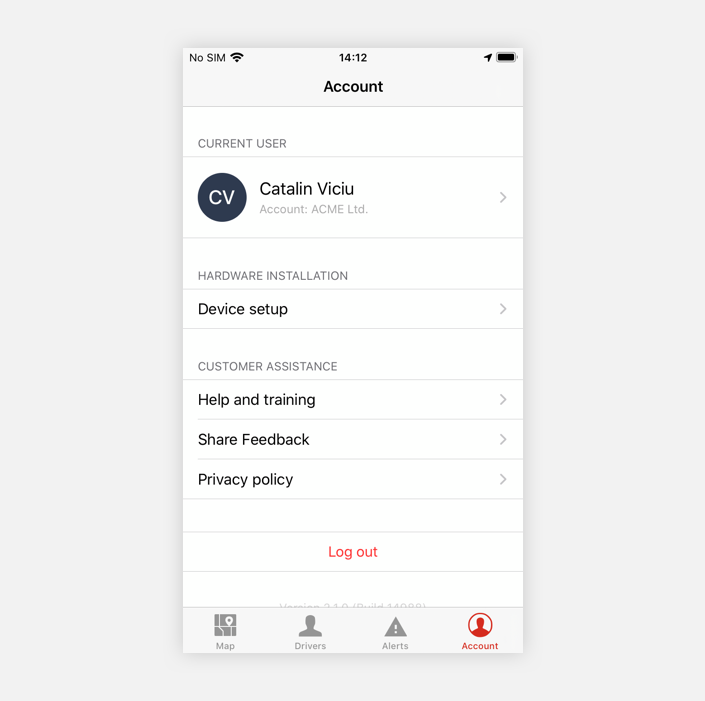 Tap your name, or your account name, under the Current User section to open a screen showing information about your profile including your username, the name of the company account, and your email address.
Tap Device setup under the Hardware Installation section to open the device setup screen. From here you can access setup information about connecting your Verizon Connect plug and play GPS tracking device to your vehicle. For more information, see Install plug and play GPS tracking devices (Spotlight users).
Tap Help and training under the Customer Assistance section to open the help system. Use this tool to learn more about using this app, and other Verizon Connect products, or tap the Share feedback button to tell us about your experience with the app. Give it a rating between 1 and 5, or type in your detailed feedback, and then click Submit. We welcome this feedback as it helps us improve your experience and the quality of this app.
Tap Privacy Policy to review the Verizon Connect Reveal Spotlight app's international and US privacy policies, or tap Log out and then select Yes, I'm sure to log out of the app. Once signed out you are returned to the initial login screen.
The app version installed on your device is shown at the bottom of the Account screen. If you require technical support, you might be asked to provide this version number.